"Thank you for your superb, committed, spellbinding work on our two Leslie Howard documentaries. Everyone who watches is impressed by your first rate work. I could never have brought these projects to life without your on-camera presence and expressive narration, charm, never-failing patience and passion for giving the best possible performance."
-Tom Hamilton, Director, Repo Films
"His ability to correctly read a script on the first take, earned him the nickname one-take Partridge. He puts everyone at ease… Derek brings something special to a production."
-Doug Larson, Telemedia/PBS
---
If you would like to see the entire TV's Bloopers & Practical Jokes segment (last clip on this demo) where Derek–as a phony BBC TV interviewer–plays a joke on Ned Beatty… go to the Bio page.
Derek Partridge Brings His Distinguished Credibility to Your Video Project
Height: 6′ 1″ – Weight: 180 – Hair: Silver – Eyes: Blue
SAG-AFTRA (financial core)
---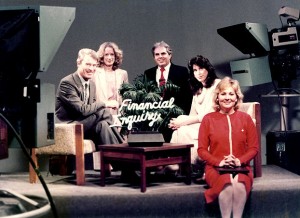 Anchor and interviewer for "Financial Inquiry"
on Financial News Network (FNN – now CNBC)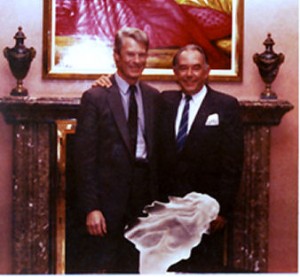 Derek co-hosting "Fine Art" with Robin Leach.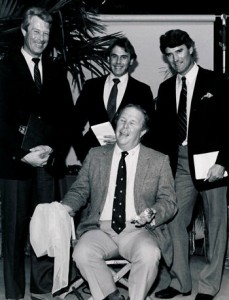 Derek as the phony BBC TV interviewer
who caught Ned Beatty on
"TV's Bloopers & Practical Jokes".
Derek Has Been a Host / Spokesman for the Following Quality Productions:
DOCUMENTARIES
Leslie Howard: The Man Who Gave A Damn
Leslie Howard and The Mystery of Flight 777
(How Howard's death saved my life!)
Charles Lindbergh: Democracy & Dissent • Seal Island
Magical Egypt second series • Betrayal of the American Investor
TV SERIES
Prime Time pilot: ABC/Granada's Wallet Roulette
Live magazine/talk show: Frankly Partridge
Legal: Law in America • Religion: TNT – The Naked Truth
Education: What's In A Word?
Living: US Lifestyles • Home View Magazine
World Friendship & Peace • LA, City of Achievement
Health: Over 50 • Health Line • Jack LaLanne's Body Line
Children: The Kwhizz Kids
Medical: Medicines Drug Companies Don't Want You To Find
Sexually Transmitted Diseases
Finance: Banking News Network • Finance Factory
Gold & Silver Report • Tax Planning
Travel: Partners in Travel • Bon Voyage! • Travel Time
Sport: Golf Video Magazine • Sun Sports
RADIO NEWS
WKAT/ABC Miami 6.0 pm news hour
WKAT/ABC  two, 2-hour talk shows
RBC (Rhodesia) newscaster
Newspapers For The Blind • Airs LA For The Blind
SPOKESMAN
Monex Gold and Silver (1980-2010) • Abbott Pharmaceutical
TV PROGRAMS
Fine Art with Robin Leach • Sex In The White House
Mad Cow Disease • Alcohol & Drug Rehab
TVs Bloopers & Practical Jokes • Origins of the Universe
Matters of The Mind • Star of the Century
Story of a News Story (PBS) • Information Power (PBS)
Hollywood on the Line • Video Aktuell (German TV/Dallas)
CORPORATE VIDEO
Accenture/Google • Bank of America • Howard Hughes Realty
Mercedes Benz • Hilton Magazine
Holiday Inn • CIBA • Jaguar • Alpha Micro • P&O Cruises
American Red Cross • Balboa Environmental
Peugeot • Motorola • American Medical • Alitalia
London Underground • Abbott Pharmaceutical
Transamerica Occidental • Environmental Pollution
LAX Business Center • AST Computers • Hoover
Rothschild Global • Warner Brothers • Medical Arteriotomy
Nestlé • Fina Petroleum • Drive Safely
Cisco World Live Television Conference • Rover • Unocal Oil
British Aerospace • Toshiba
TV NEWS
Sky TV (London) • EuroNews (Scandinavia)
Financial News Network (FNN, now CNBC) anchor-interviewer
Financial Inquiry for FNN, anchor-writer-interviewer (10 years)
World Access TV • Newsworthy
Rhodesian Television head news anchor • Cable Vision News