How Leslie Howard's death… saved Derek's life!

Before Flight 777 took off from Portugal to England, 7-year old Derek had to vacate his seat, so that VIP Leslie Howard (Ashley Wilkes in "Gone With the Wind") could take his place. The Dakota was shot down by the Nazi Luftwaffe, with the loss of all lives. "Leslie Howard: The Man Who Gave A Damn" was screened at San Francisco's 2015 Mostly British Film Festival, where it won Best Documentary.
 <
"TV's Bloopers & Practical Jokes"… as a phony BBC TV interviewer, Derek plays a joke on Ned Beatty and we promise you a good laugh! 
Bringing Intelligence & Adventure, Experience & Accomplishment
– From Derek's Story… to Yours.
Derek's ambition was always to be a TV spokesman, but never imagined that one day he would voice a Harry Potter spokesgoblin for Universal Studios… nor be the Evil Empire's chief bad guy on Star Wars: Rebels!! Derek has traveled in some 75 countries, living and working in 8 of them. He attended university in Paris and Barcelona and hosts on-camera from TelePrompTer in French, Italian, German and Castilian Spanish. Derek has been an RAF Officer, a City of London Special Constable and an AE in an international ad agency. He is a Fellow of the British Institute of Directors and was CEO of Cinema Translation Center (Rome), Conservation Tools & Technology (UK) and is now CEO of Kick-Eez UK (shotgun recoil pads). He was formerly a consultant to: Nitro Nobel (Sweden), Winchester (UK), Armi Perazzi (Italy), Eley Ammunition (UK) and Armas Kemen (Spain),
To fulfill his lifelong ambition to be a TV host/presenter, Derek had to wait till 1976 when he was invited to coach international trap and skeet shooters in South Africa and Rhodesia, where he also trained SWAT Teams. There, he met Mike Hart-Jones, head of Rhodesian TV, who hired Derek.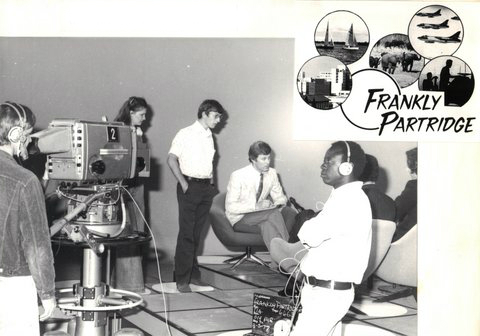 Within a year, Derek's live magazine program, 'Frankly Partridge', became Rhodesia's most popular show. Mike wrote to the Board of Directors that Derek's fan mail, from viewers of all races and ages, was unprecedented in his ten years at RTV. Derek filled a variety of roles at RTV, including head news anchor, quiz master of 'The Kwhizz Kids' and presenter of 'Message to the Nation' specials.
Derek was a member of the British International Trap Shooting Team at World and European Championships. He won the Gold Medal and set a World Record at the Nordic Games in Denmark and won another Gold Medal at the Grand Prix of Paris. He was the Founder and Chairman of the British International Trap Shooting Federation, Vice Chairman and Life VP of the English Clay Pigeon Shooting Association. He has written books and over 100 articles for many US, English and European shooting magazines. At golf, he set no records and considers his handicap to be… himself!
He has been a live events MC for such clients as: NAHA (Hollywood Palladium), Motorola, Screen 2000, Toshiba Medical, City of Hope, British Gas, European Champions Football VIP galas in Barcelona, Amsterdam and Rome, Media Alliance of Orange County, Marbella Film Festival, United Health Care, BOCM, ICI, United Medical, California Sea Lions. 50+ functions in Rhodesia.
Additional Resources & More From Derek
Find Derek on IMDB and More