Thought-Provoking Thoughts About Living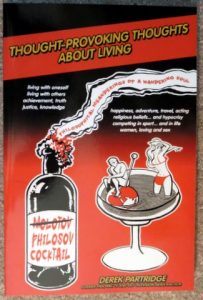 Check Out Derek's Book: Thought-Provoking Thoughts About Living: 
 ABOUT
"Thought-Provoking Thoughts About Living" has 500 epigrams about most aspects of life and living. Intended to cause profound soul-searching, you may agree one moment and be angered the next, by the deliberately thought-provoking views on everything from loving and sex… to religion, living with oneself and living with others. Derek has traveled to 75 countries and lived in 8 of them, making him an interesting and unusual author.
---
REVIEWS
"Frank, profound and controversial… Derek is unafraid of controversy in his dealings with such delicate matters as love and religion… he offers much food for thought… although basically dealing in philosophy, it is well packaged in a veil of humour, making it highly readable. Rare gems of wisdom and deep sincerity." – Margaret Wasserfall, Publications Manager, Look & Listen (Rhodesia's TV Guide)
"As for your 'bible', it has received comments from people in the Vatican ranging from 'interesting' and 'revolutionary' to 'some kind of nut'" – Christine Slatford, Secretary to the Archbishop of Canterbury, Rome.
Listen to some passages from the book, read by the author, Derek Partridge.
The paperback costs $16.95 and is available from Waldorf Publishing:
www.waldorfpublishing.com/product/thoughts/297?cp=true&sa=false&sbp=false&q=false&category_id=2